Our Story
Frank's Driving School has been serving the community of central CT since 1968.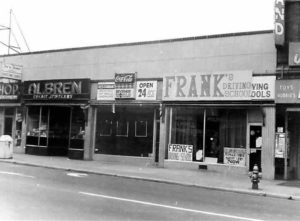 Ask anyone you know, and we bet he/she or someone they know learned from us! We are the leader in driver's education in central CT, with one important goal always in mind;
w
e
s
tr
i
ve
to
p
r
ovi
d
e
th
e
s
afe
s
t,
mo
s
t
c
omp
r
e
h
e
n
s
i
ve
d
r
i
ve
r
's
e
d
u
c
ati
on
for
te
e
n
s 
a
n
d 
ad
u
l
ts
.
Many things have changed since we first opened. New roads have been built, new driving laws have been passed, and we have expanded the areas we serve. However, our commitment to excellence and our dedication to the families we
serve will
n
e
ve
r
change. We are a genuine family-run business and we recognize how stressful it can be to think of your loved one behind the wheel of a car for the first time. With our school's experienced instructors, those first moments behind the wheel don't have to be filled with anxiety. We know firsthand how crucial it is for teens and adults to become lifelong skilled and confident drivers. Our instructors are kind and always willing to meet our students where they are, literally and figuratively! We offer flexible schedules, competitive prices, and a fun, relaxed experience. Look no further then one of CT's first family-run driving schools. Let Frank's Driving School lead your family members down the road to driving success!
Meet the Team
Sal Giannone, Founder
Sal Giannone, aka "Frank", recently retired, is one of the co-founders of Frank's Driving School in New Britain, CT. Sal was born in Italy and came to America with his parents and three brothers in the late 1960's. Sal was living the American dream of entrepreneurship when he took a leap of faith and acquired Frank's Driving School. With over 40 years of experience under his belt, Sal has helped thousands of people receive their driver license. Sal is also one of the few prestigious people to have his Master Instructor License and over the course of his career, helped countless other driving professionals obtain their instructor license and played a pivotal role in helping them open their own schools. He is happily married to his wife Giovanna and together they have three kids, Enza, Danny and Melinda.
Danny Giannone, Owner Southington and New Britain
Danny Giannone is the owner of Frank's Driving School in Southington, CT and current owner of the New Britain, CT location. Being raised in a family of first-generation immigrants, Danny learned the value of hard work and perseverance from a young age. He attended Central Connecticut State University and obtained his driving instructor license in 2000. He chose to follow in his father, Sal's, footsteps and open up the Frank's Driving School Southington location in 2002. Danny currently lives in Berlin, CT with his wife Violet, and two daughters, Brianna and Ava. Whether you are a brand-new driver getting behind the wheel from the first time, or a licensed driver looking to improve your skills, Danny is committed to providing exceptional driving instruction to all of his students every step of the way. He firmly believes that this type of instruction can only be found in a family owned and operated business, where each student can develop their skills in a safe and comfortable learning environment. 
Sebby Giannone, Owner Rocky Hill
Sebby Giannone is the owner and operator of Frank's Driving School in Rocky Hill, CT. Sebby became a licensed driving instructor in 1990. He attended Central Connecticut State University and graduated with his Bachelor of Science in marketing in 1995. He currently sits on the Teen Advisory Committee and reports directly to the commissioner of the DMV. He is also a member and the current president of the Connecticut Driving School Professionals (CDSP), where he meets once a month to discuss topics and issues that directly affects all aspects of the industry. His involvement with the CDSP has directly led to meaningful changes to teen driving laws. Along with his professional achievements, he is also a proud husband to wife Teresa and a father to this two children, Gabriella and Michael. He has taught both his children how to be safe drivers and is committed to providing the same treatment to each and every one of his students. 
Peter Bafumi, Lead Instructor Southington